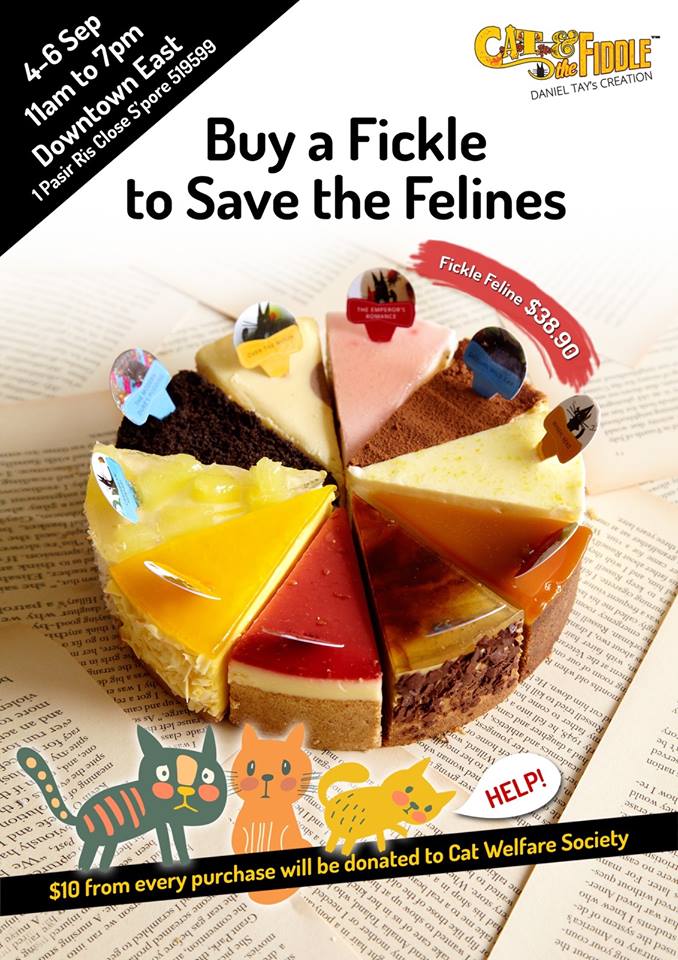 Do you live in the East? Looking for something to do with your kids during the school holidays?
Join us at Downtown East for the PETA Pet Show next weekend from Friday 4 Sept to Sunday 6 September.
Cat Welfare Society will be hosting a range of fun-filled activities to entertain your kids.
Face Painting
Fri 4 Sept – 12pm to 4pm
Cat Handicraft Workshop
Fri 4 Sept – 4pm to 7pm
Sun 6 Sept – 3pm to 7pm
Photobooth (Thank you CHIO Booth!)
Sat 5 Sept – 2pm to 7pm
Sun 6 Sept – 2pm to 7pm
Cat Massage Demo (Limited 10 per session only)
Sat 5 Sept – 12 to 1pm
Sat 5 Sept – 3 to 4pm
Are you a sweet tooth? Amazing Cat and the Fiddle cheesecakes will also be available throughout the 3 days with part proceeds donated to CWS!
The brains and creative spark behind Cat & the Fiddle is award-winning Chef Daniel Tay who has worked with legendary gourmet food retailer Fauchon of Paris. In Singapore, he was the Pastry Chef of the famed gastronomic French restaurant, Les Amis.
Get your cake fix and help us raise funds towards vital CWS programs such as rehoming programs, foster care network support, medical assistance, sterlisation schemes and much more.